Testimonials - Personal Mobility Stories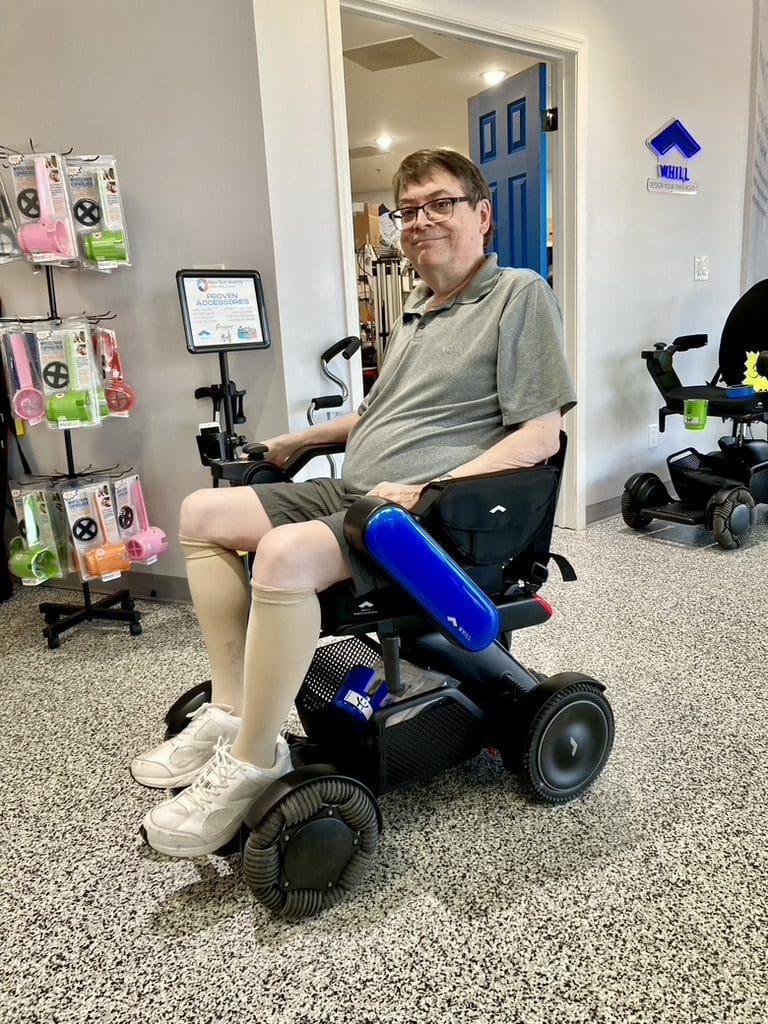 David S. - Albuquerque, NM
FANTASTIC MACHINE! I love it!
Trip home to NM: No issues with the trip — it was actually fun—very nice weather both ways.
We tested my new WHILL at the Fashion Mall in Scottsdale for 3+ hours. Absolutely no issues—it was liberating. Also, the C2 is far more maneuverable in the house than I expected and is very practical indoors.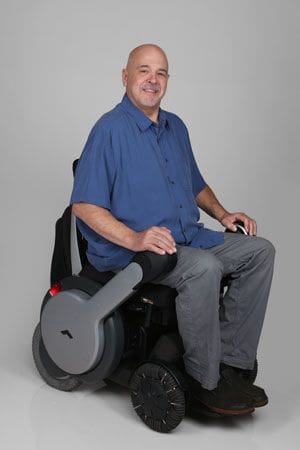 Who says getting older can't be better?
Dorene Mykol
"Needing personal mobility assistance does not mean it can't be done with ease and style. Since 2006, I have watched my husband, Doug, stay positive and pursue finding a "cool" mobility chair for his long distance needs. He found the WHILL and now has a chair that is simple, unique and classy. Who says getting older can't be better?"
Suzi R., Phoenix, AZ
"I live in Arizona and my friend lives in Colorado. Thanks to the WHILL I can visit her. I haven't gotten on an airplane to travel anywhere for over eleven years. I could take my old wheelchair on an airplane, but once I got to Colorado I would be stuck. Now she can pick me up at the airport and we can go wherever we want. Also I can stay at her house instead of a 'accessible' motel room because the WHILL can navigate much smaller spaces. With my old wheelchair I wouldn't be able to use her bathroom.
In day to day life the WHILL gives me a lot more self-confidence. It doesn't look like a piece of medical equipment. This is the first time I enjoy people asking me about my wheelchair. When I go out to eat I can pull right up to the table, this way I don't get food all over myself.
They are re-paving the parking lot in my apartment complex, with my old wheelchair wouldn't have made it over the bumps. Thanks to the WHILL I have my freedom back. "
unique design, futuristic style
Doug Mykol
"Maybe it was ego or self-consciousness... I always felt uncomfortable in a standard, medical looking power chair. Always on the hunt for something new and high-tech, I discovered the WHILL. With its unique design, futuristic style, intuitive function and unbelievable capabilities, I immediately felt better about being in a chair. "
She was in control the whole time
Amanda H., Montrose, CO
"We took the WHILL out for a spin last night around the neighborhood and it was fantastic! It was so much smoother than Char's manual chair and she was in control the whole time. Thank you for the information about the referrals. I will be sure to remember that when anyone asks us about the chair. Thanks for all of your and Julie's help and we will let you know if we have any further questions."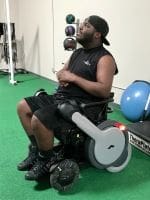 personally made a difference in my journey
Vincent R., Chandler, AZ
"Living life as a quadriplegic comes with many challenges. But I'm blessed to have those who make life so much easier. My good friend Doug Mykol is definitely one of those people. Along side his lovely wife, Doug has personally made a difference in my journey. Their business, "New Tech Mobility", is the best mobil power wheelchair provider company I've ever witnessed and I can't imagine working with anyone else. From repairing new parts to keeping me updated on the newest models, Doug always delivers in excellence. Thank you so much my friend for your amazing service! "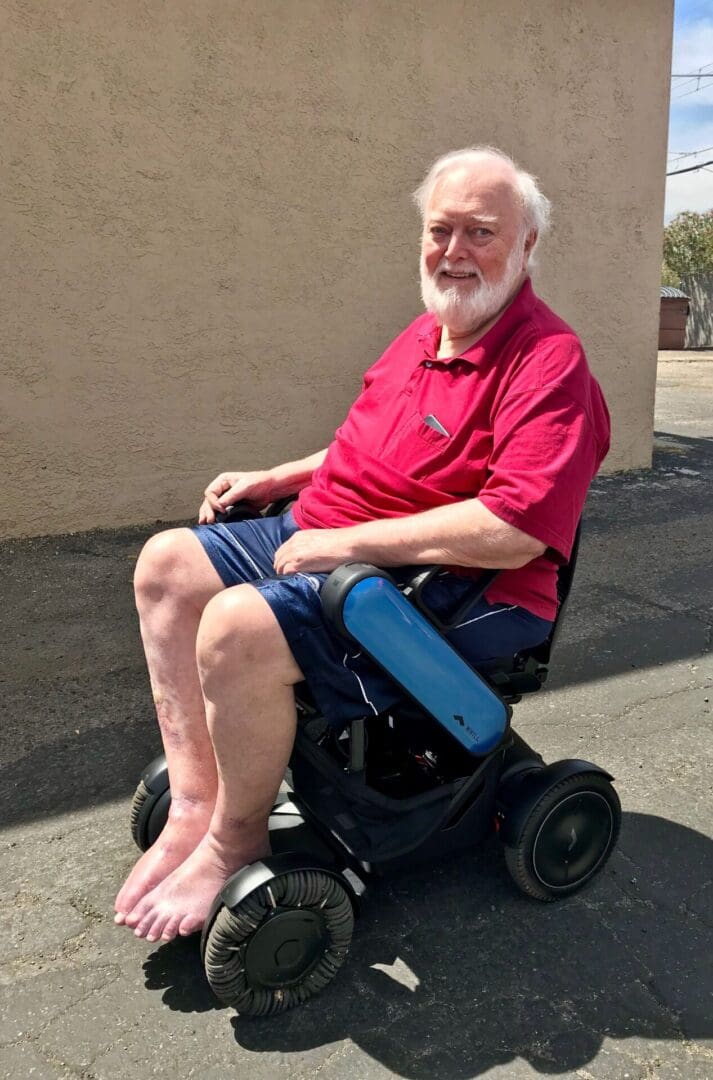 Outstanding buying experience...
Jeff B. –Tucson, AZ
The company brings outstanding service to the buying experience. Their choice to represent WHILL gives them state of the art hardware. The Ci2 is an incredible wheelchair. Comfortable, quiet, responsive and good value.
What do I like about the Model Ci? EVERYTHING!...
Monica L. –Apache Junction, AZ
Amazing service, friendly and Doug really takes the time to give you exactly what you need, not what he can sell. 10+++You and Doug have made my life so much more! I can go places without worrying about the battery drain or not being able to fit through doors. I am going places and doing things I have not been able to do before. Airline travel was always a nightmare. Now it is so easy, airlines love the chair, and it makes their job easier too. My Ci is much lighter and more maneuverable! Believe it or not, my Model Ci has even been on hard packed sand at the beach! I can keep up with family and they do not need to worry that my chair won't fit places. It even makes my at home life easier as it fits down narrow halls and smaller rooms. What do I like about the Model Ci? EVERYTHING! The small mouse like controller fits my hand which is so much easier when you have grip issues. The battery lasts for days! I have put on 457.3 miles since purchased. It's very easy to keep clean and the seat is remarkably comfortable. I can remotely park it at night and call it back to me as needed, which I will say is a show stopper when people see me use the remote at a restaurant! We take it with us in our RV and I will tell you some of those campsites are deep gravel and this little Ci goes anywhere! I've taken it up and down some hiking trails without any issues, also!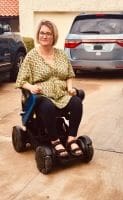 —Christina V., Phoenix, AZ
"I love my Whill. It has a tiny footprint and a very small turning radius, which allows me to get into many spaces I was not able to in my previous larger power chair. It's nimble and light weight, yet it still feels very secure and stable. I can race across the lawn with the kids and not worry about divets and slopes. I have also used a 3-wheeled scooter in the past because it allowed me into smaller places than my large power chair but I tipped over fairly frequently and it had become too dangerous to use. This is the perfect combination of small and nimble but steady and powerful. I've also had numerous people stop me to check out my chair with awe; wanting to know how I appear to float sideways when I turn, or about the unusual design of the wheels, or sleek styling. I've used chairs for almost 10 years and this is by far the best!"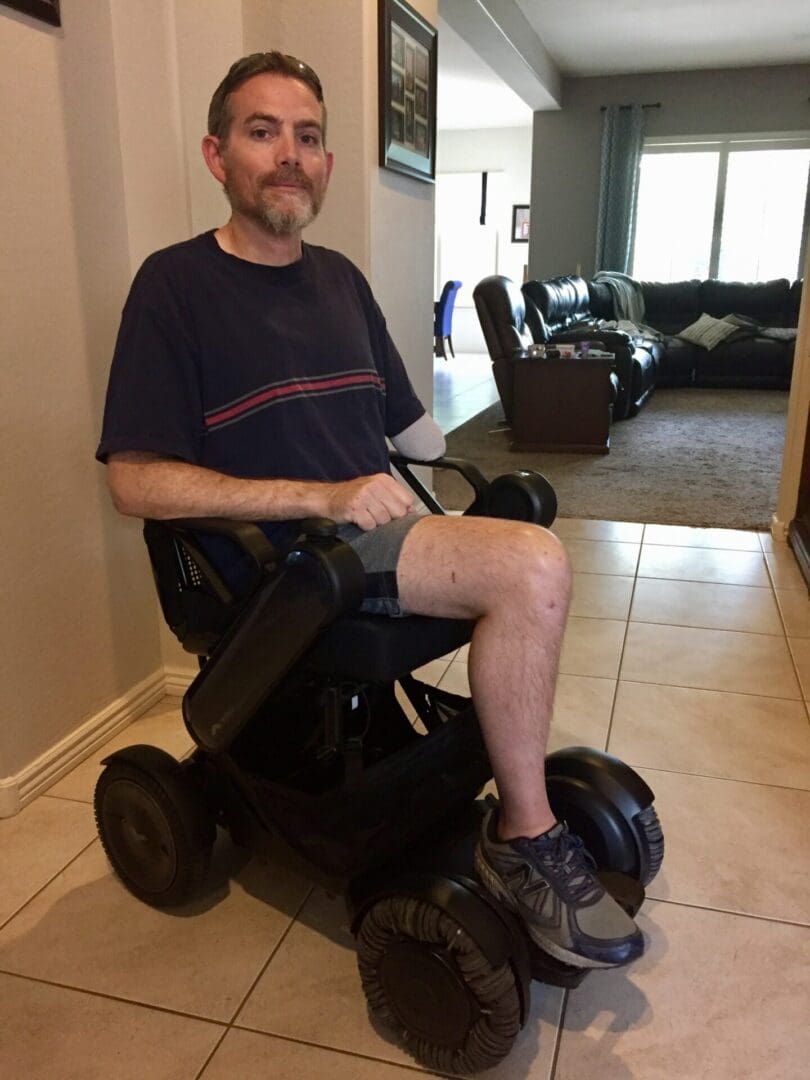 Thank you...Great customer service
Stephen O –Goodyear, AZ
Thank you for your help.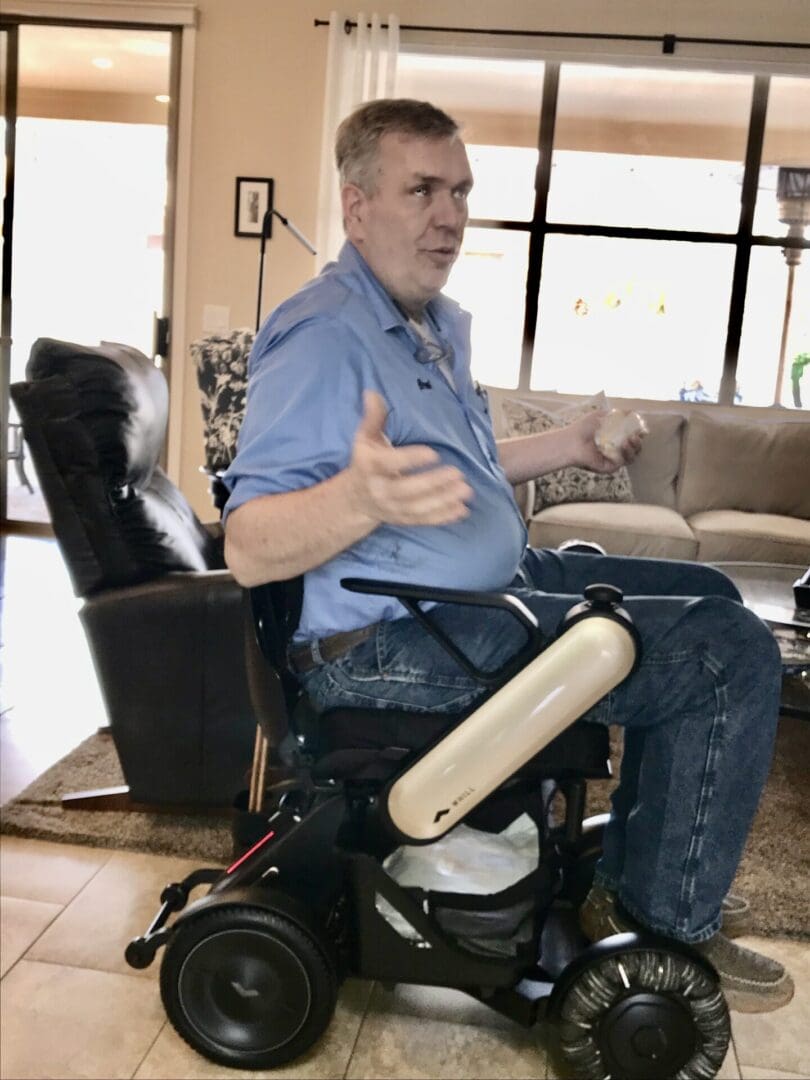 My WHILL Ci has changed my life in so many ways and I have many stories!
Brent R. –Tucson, AZ
I think the best way to put it is my life now has stories of all the things I CAN do instead of the "can'ts!" The top four things I appreciate about my life with WHILL are:
1) Scooters with handlebars (tillers) feel like I'm riding a bike indoors! The WHILL feels like an extension of ME so I feel less conspicuous, less "crippled" and less old!
2) The 4-wheel stability while still have a tight turn radius is amazing!
3) The portability is great! If friends ask me to go with them, in their mini-Cooper, we could all fit.... including my WHILL!
4) The thought of "do I have the energy towalk" never plays a role in spending time with friends. Now it's just do I want to go?!?
Twilla S. - Scottsdale, AZ
Doug and Dorene made our WHILL buying experience gratifying. So kind and knowledgeable. They accommodated our needs by doing a demo at our home! Shared great info and delivered an outstanding product. Could not have been better!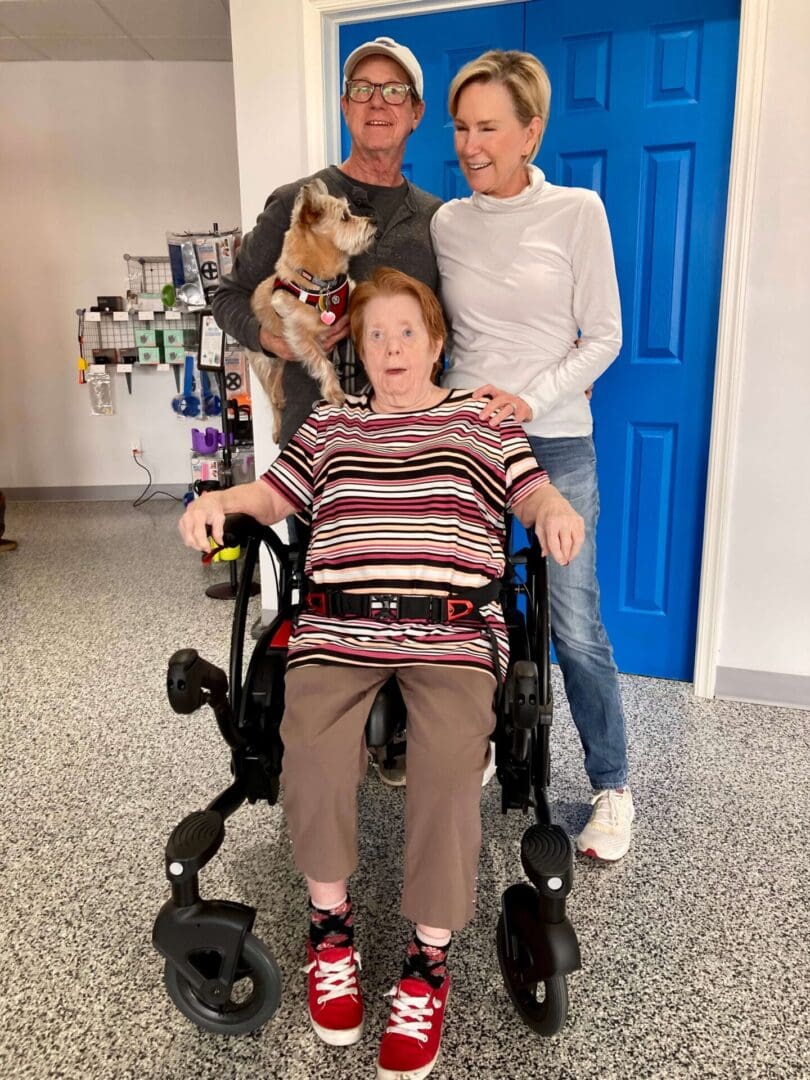 Good Morning Doug I want to Thank You from the bottom of My Heart!!!!!
Jim M. - Surprise, AZ
When I called Colleen yesterday, to tell her she was getting the ZEEN, she was so excited and it warmed my heart to share the AWESOME news with her. As We walk through life we are touched by Angels and we know that You are one of them. Colleen was on the phone to all the family, as well as friends sharing her excitement. This will make such a huge difference in her Life. Thanks Again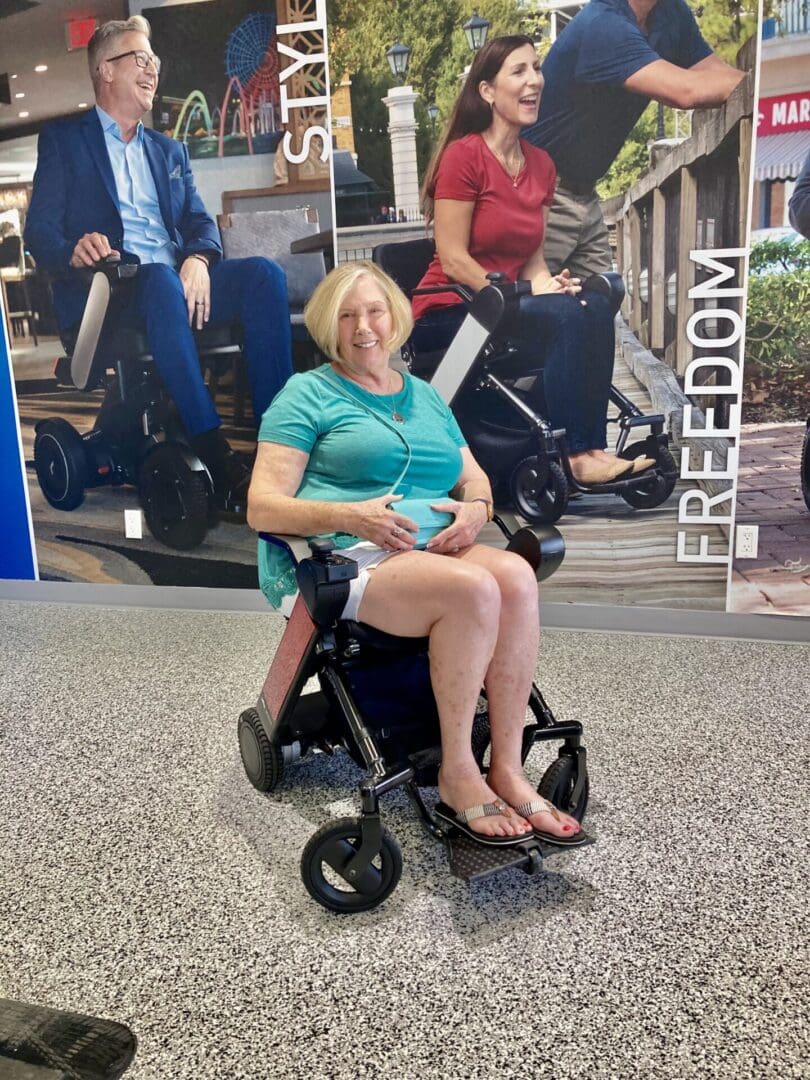 I love my new fold up model.
Lynne L - Sun City, AZ
We have traveled on the airlines and use it for places like the Zoo. Thank you for helping me get this. It was a life changer for me!! Hugs Lynne n Sal. Griffin N Carter🐾🐾
Whill chairs are the industry leader in every way.
Ann S. – Scottsdale
The chairs are innovative in design, well built, and durable in every sense of the word. In addition, they are very comfortable for the person using it to sit for extended time when necessary. Doug is extremely knowledgeable about the chairs as he is also a user. He is an excellent representative for the company and is never pushy in sales. He will however go the extra mile in helping you decide if the chair is right for you. I have bought two chairs for myself to keep in different locations, and one for my brother, all from Doug. Anytime I have a question, he is quick with a reply and always very pleasant to deal with. I highly recommend New Tech Mobility and Doug Mykol.
After we saw a Whill Ci2 in use on one of our Phoenix trips, we were intrigued and wanted to know more.
Randy E. – California
We found Doug and New Tech Mobility online and called them.
From the first call through the demo and then ultimate purchase, Doug and his team were awesome. Since my wife has MS mobility issues, we found working with Doug so beneficial as he also has MS with mobility issues and uses a Whill. He fully understands the user's needs and gives insider advice. Priceless. Doug and his team have gone above and beyond anything we would have imagined - in information, demos, pricing, and service. We wholehearted and exclusively recommend them. We live in California, but it was well worth the trip to Phoenix to work with Doug and his team.
Also, my wife has now used the Whill Ci2 for three months, transitioning from a Go-Go Elite Traveller 4-wheel scooter. The maneuverability and turning on a dime; smooth ride and comfort; accessibility to tables; and general coolness are some of the reasons she is so happy to have made the switch.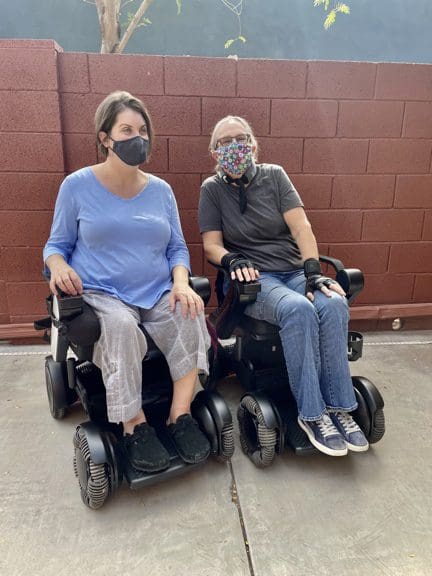 I have had many different mobility devices and power wheelchairs over the years and Whill chairs are heads above the rest.
Christina V – Phoenix
The innovations in the wheels allow a 360° turn on a dime which helps navigate the small dimensions in a historic home as well as in smaller public restrooms, etc. Plus, they look really cool and everywhere I go people are interested in the design of my chair instead of focused on my disability. The owners of New Tech Mobility, Doug and Dorene Mykol, are an absolute joy to work with and make everything easy and stress-free. Doug knows these chairs inside and out and has always come right over to help with even the smallest issues that I've called him about. I bought the model C2 years ago and it was the perfect amount of chair when I had moved up from a scooter wanting more stability but was not ready to commit to a full-size power chair. Recently bought the model A from New Tech Mobility and I have never been happier!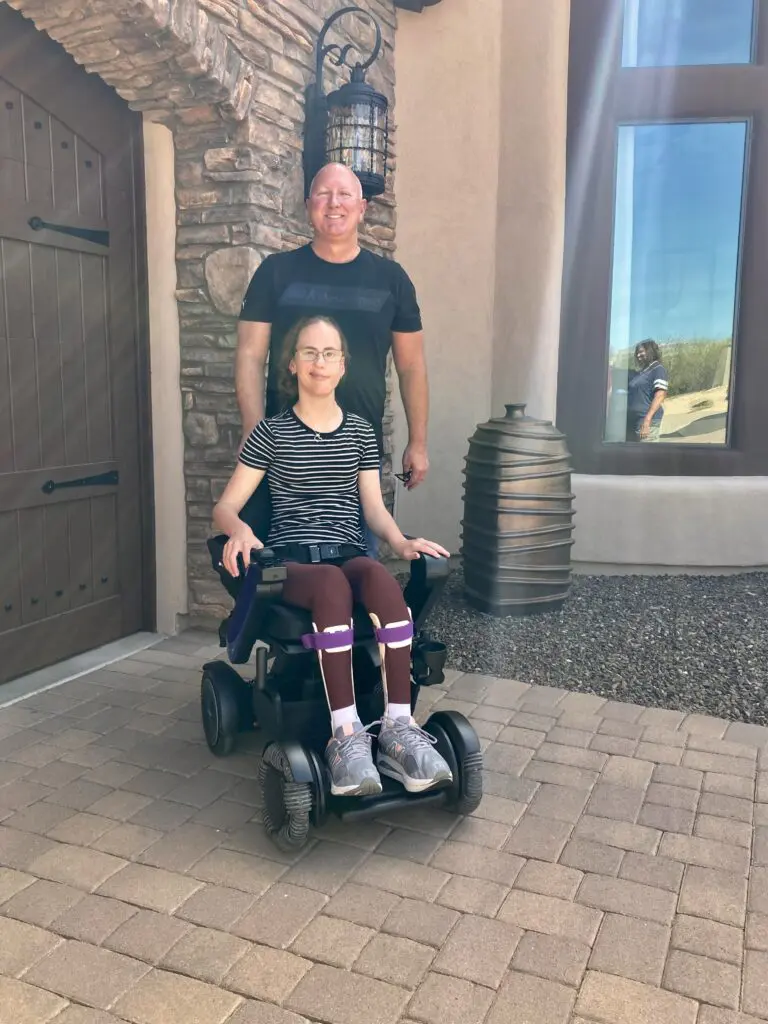 Doug and the staff at New Tech Mobility offer outstanding customer service!
Lori L. – Rio Verde
We have been very pleased with the Whill wheelchair we purchased from them. They have been quick to respond and help with any issues, even quickly shipping a charger to us when we forgot ours while traveling. Courteous and professional folks.
Doug is the best.
Jeff & Ann J. – Paradise Valley
He has taken great care of us. Both Ann and I would recommend him and New Tech Mobility.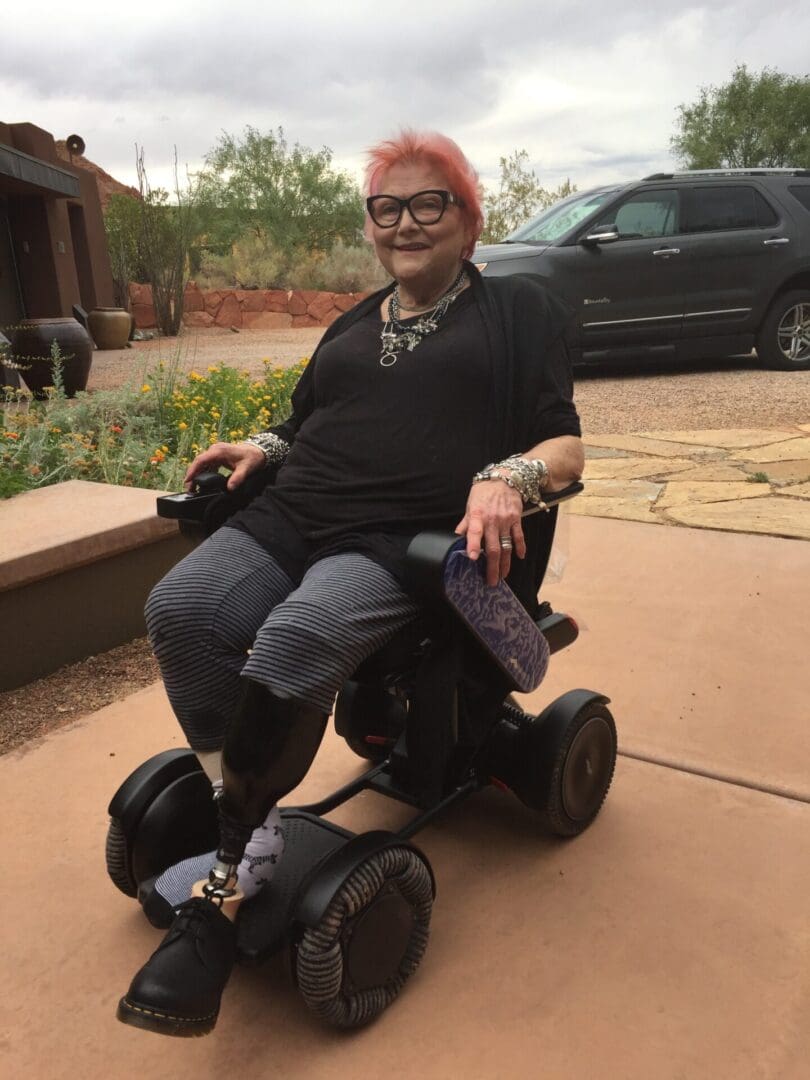 Whill chair going strong over 18 months.
Roger S. – Utah
Went sooooo …… above n beyond for me I cried wow they truly care so much.
Sharon L. – Phoenix
The moment I sat in a Whill chair, I knew it was the best option.
Carol S. - Phoenix
Superior comfort, maneuverability, novel wheel design for minor rough road conditions and ease of use were the top appeal for me. The Scottsdale showroom even has a small rough terrain demonstration area you can drive your chair over to show you what it's capable of. Our experience working with Doug and his staff was wonderful. All our questions were answered, and we were well taken care of. Highly recommend New Tech Mobility and Whill chairs!